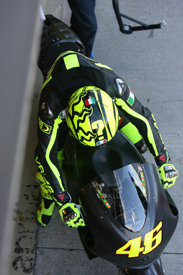 Ducati's sporting boss Filippo Preziosi has admitted that he is concerned Valentino Rossi's testing programme could be hampered by his recovery from shoulder surgery.
The MotoGP legend is joining Ducati from Yamaha next season, but was off the pace in his first test on the Italian bike in November, and then had surgery on the shoulder injury he had sustained in a Motocross incident earlier in the season.
In an interview with
Motosprint
, Preziosi confirmed that Rossi's fitness was a worry, as he fears the former champion will still be below par physically when testing resumes in Malaysia in February.
"At the moment, the thing that worries me the most isn't a technical issue," Preziosi said.
"I can't figure when he will have the physical condition to really push on the track. Valentino will come to Sepang fully recovered from a medical point of view, but physically he will have a big gap to make up. After all, he'll come from a winter not dedicated to resting, but to working out to recover.
"Valentino will not have the chance to rest, while for riders at that level it's important to pull the plug a bit. Luckily he his super strong mentally, so he will come to the races in a strong psychological state of mind."
Preziosi admitted that Rossi might have to limit his testing mileage for fitness reasons - yet will want to accumulate as many laps as possible as he adjusts to the very-different characteristics of the Ducati.
"We'll have to be very able in asking him not to run too much," said Preziosi. "Temperatures are very high in Sepang and conditions are extreme.
"The priority is for him to recover 100 per cent during the winter, so for February and March it's fine to sacrifice some extra information from running on the track.
"We must be able to do without all the testing we'd like to do, otherwise we'd force Valentino into a hyper-activity on track that may slow down his recovery.
"We'll have to make him run just as little as needed to develop the bike. I don't want to risk having Valentino under 100 per cent in the races because he got too tired in testing. We must save him energy during the winter.
"It's clear, however, that we will have to hold him back because he will want to understand and develop the bike as much as possible. To do that, he'll want to run plenty."
The team boss added that Ducati would have to stay calm about its testing form, as it might not be representative.
"I don't think we'll lead the lap times, but we must avoid being influenced by it," said Preziosi. "We must think about the races."
Ducati: Rossi fitness biggest concern
Reviewed by
Dening Nyess
on
Rating: